The first Saturday of March, I suddenly realized Richmond Brunch Weekend is a lot closer than I thought, and ATOB needed to start reviewing all these participating restaurants. I called up two friends and we headed to Southerly Restaurant & Patio, which is the dine-in portion of Southern Season. Now Sara and I have been to Southerly one other time, but not for brunch. I've been meaning to go back, and it only took nine months, no biggie.
We arrived around 12:30 with no reservation, but were seated promptly. The first thing my friends remarked upon was how fancy Southerly is. Now it's not fancy in the "you need to dress up" way, but it's the sort of place "you go to after church," my friend explained. "Or you take your grandmother for her birthday."
I definitely agree with this. There were rosebuds in water on the tables. Southerly's target demographic is not the hungover millennial demographic, but it doesn't need to be. We have the Fan bruncheries for that. The Southerly is, like its name implies, a taste of the South – a brunch place to take your parents (or rather, they take you) and then have them buy you stuff next door in the Southern Season.
The prices are decent, too. Everything is in the $10-$12 range, and portions are ample. I got a to-go box at the end of my meal.
Now Southerly hasn't released their special brunch menu yet, so my friends and I tried everything. Well, three things. I ordered the Fried Green Tomato Cackalacky ($11), which is basically an egg scramble with three fried tomatoes and Cackalacky sauce. I had never heard of this sauce before, but a quick Google search on my phone at the brunch table brought up a website advertising a southern spicy sauce with sweet potatoes as the third ingredient. What? But the waiter said it's delicious.
The waiter preferenced the house-made chorizo quesadilla ($11) before the Cackalacky however ("Cackalacky" is fun to say aloud), which my one friend ordered. It's a quesadilla (if you couldn't tell) with scrambled eggs, spicy chorizo sausage, pico de gallo, and cheese (!!). Both the quesadilla and the Cackalacky came with a side of fruit, stone-ground grits, or hash-brown casserole. The last two consist of cheese and more cheese. (Yassss.)
My other friend ordered the quiche, which comes with a basil-basalmic house salad ($12). The quiche alternates between Saturday and Sunday. This Saturday it was broccoli and cheddar.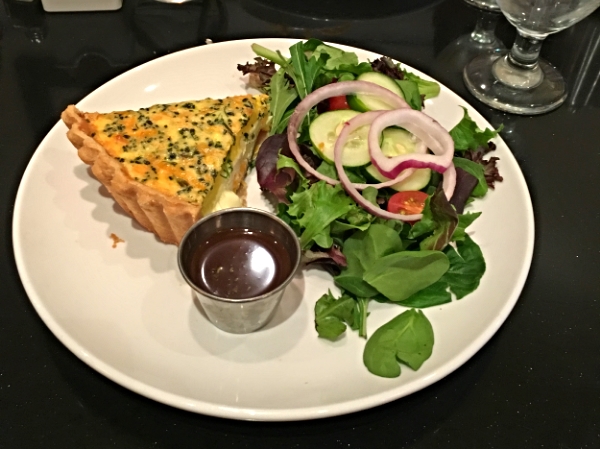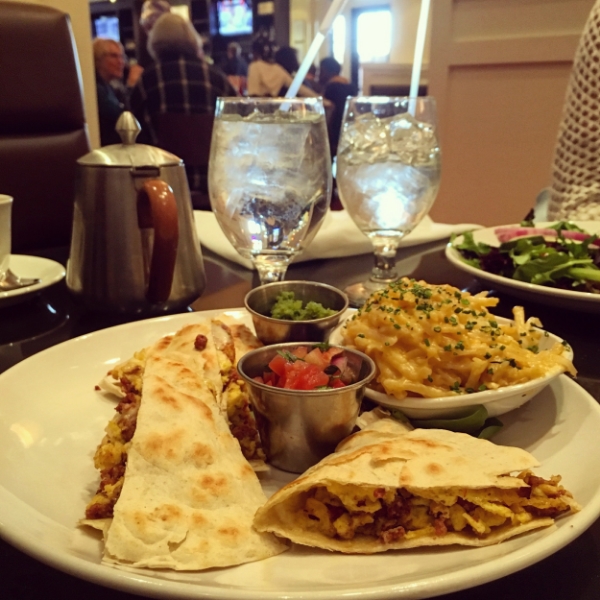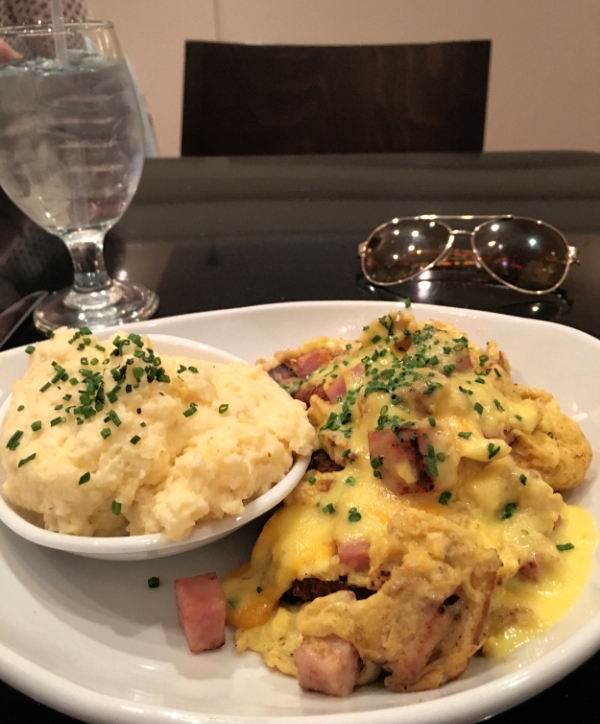 Thankfully, I have charitable friends who let me have a bite off both their plates. I offered up my own plate, but both declined. Their loss, I guess. However, both their meals were mmmmmmmmmmm. I can't decide what I'd order the next time I go to Southerly. It was all so good.
My recommendation for our readers is, you should check out Southerly. Make your parents take you, or go on a classy midday date. And definitely check them out for Richmond Brunch Weekend! Hopefully, one of the above dishes will make it on their special brunch menu, but even if it doesn't, you're not going to be disappointed.