When Continental Divide joined Richmond Brunch Weekend's lineup, I had yet to be there, though I only live a mile away. I quickly looked up their menu, and besides craving brunch, their dinner menu looked like da bomb. Southwest Caesar salad? Thai chicken burrito? Yes, yes, yes.
So before I even went for brunch, I stopped by for dinner with a friend. Except my friend and I pushed back our meeting time by an hour because of some crazy thunderstorm, but I was starved, so I ate half a jar of peanuts by the time dinner actually arrived. So then I'm at Continental Divide, and the waiter asks what I want to order, and secretly I'm in my first trimester from those peanuts.
I asked for something lighter, even though I really wanted that Southwest Caesar salad, but I was imagining a plate of romaine sapped in heavy dressing, and the peanuts within me curdled. But my friend did get the Caesar salad. When the waiter put it down on the table, I wanted to crawl across the table and hold him back with a butter knife while I devoured it.
It looked PERFECT. It's a decent sized plate of romaine, but it's not sapped, and it comes topped with chicken for only $9.95, which is one of the best deals you can get for salad. I'm a huge salad fanatic, but I never order them while dining out because betches be asking $12.95 to give me a plate of leaves and oil and fat for two hours' worth of minimum wage? I could make a salad five times over at that price in my kitchen. Continental Divide's Southwest Caesar salad taps out at $11.95, and that's if you get tuna or chili-rubbed shrimp. (Chicken is $9.95 - and well worth it!)
I went back to Continental Divide the very next week and ordered that salad. I have never been more fulfilled in a decision.
ANYWAY, back to the point of this post: Brunch. Like their dinner menu, Continental Divide's brunch menu has a southwestern spin. I browsed it the morning my two friends and I showed up. (It actually also rained the morning we went like the time it thunderstormed before dinner, but that's an irrelevant detail. I didn't eat a small child in peanuts before brunch. Phew.)
In browsing the menu, I decided no ifs, ands, or buts, I was getting the pumpkin waffle! It might have been May, but pumpkin spice never goes out of season.
My one friend then ordered the breakfast burrito. (She actually debated between that and the huevos rancheros, but Continental Divide is offering the breakfast burrito during Richmond Brunch Weekend with $2 being returned to VCU Massey Cancer Center, so I told my friend she had to order the burrito. She got it veggie style.)
My other friend debated similarly between the huevos rancheros (what is with the huevos?) and the – wait for it – Southwest Caesar salad. Yes, this salad is available during brunch. Stop, drop, roll.
But I'm selfish and needed my friend to order a brunch item so I could have a pic of that. No one wants to see a Caesar salad beside a mimosa. (Or a Bloody Mary, which is what she actually ordered. I'm actually gagging over my keyboard at the thought of croutons, Romaine, and salty Bloody Mary mix coming together on the palate. UGH.)
My friend who ordered the burrito also got coffee. This is only important because I told her she needed to have the cup full for pictures. And then when our food came, we had to wait for the waitress to fill it. Me: "No, you can't start eating."
Everything was great. The waffle definitely had that pumpkin taste, which sometimes can be lacking when someone labels something "pumpkin." And I'm pretty sure there's actual pumpkin in it.
The huevos looked good, but hard to share. I would suggest a smaller plate for them, because the plate dwarfs them – but not the taste! And the burrito – well, I would definitely get this if I go to Continental Divide for Richmond Brunch Weekend. *wink* But seriously.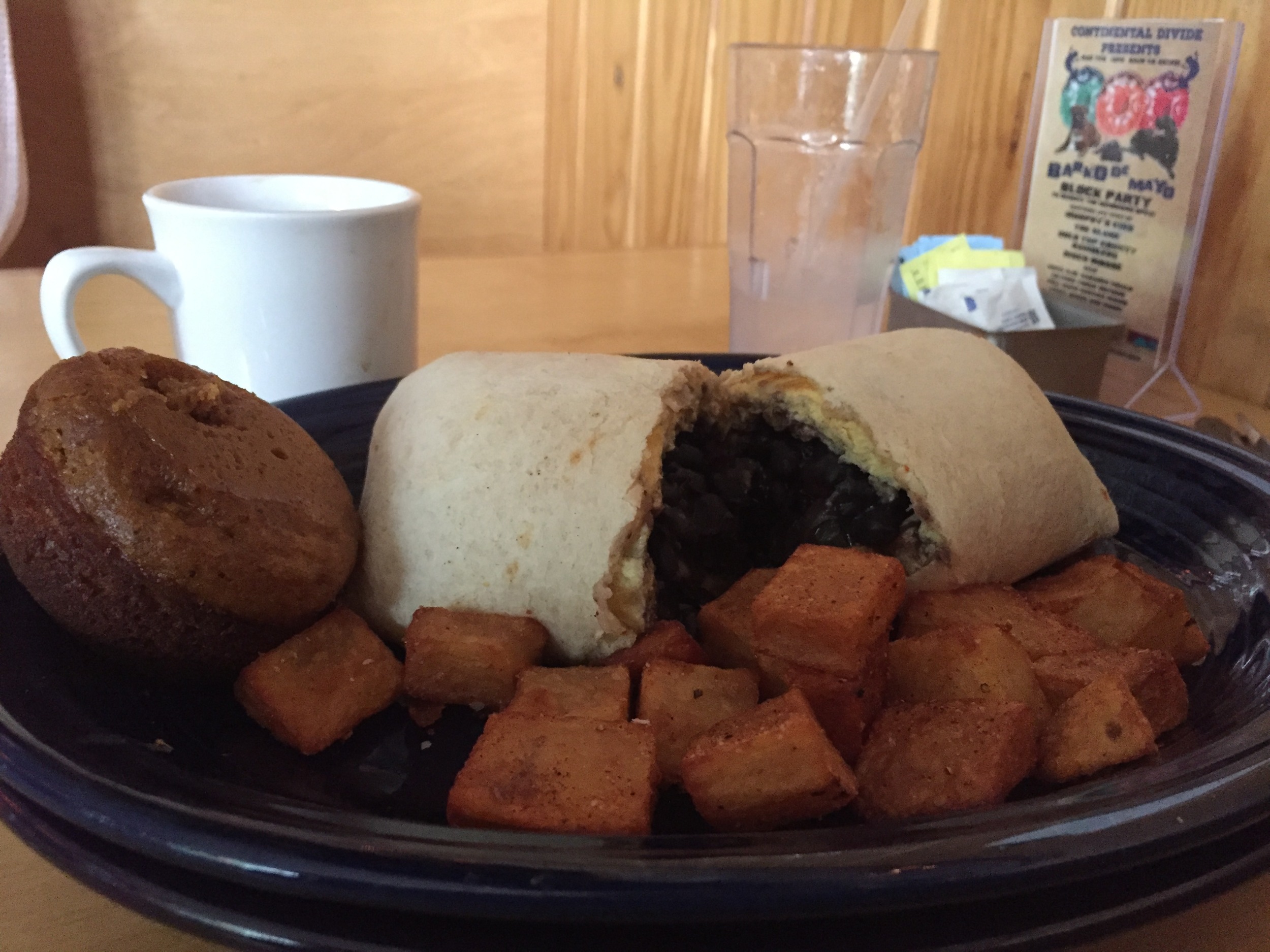 A while ago, Sara and I had someone comment on a Facebook photo we posted of a breakfast burrito from Metro Bar & Grill, "Where is this from? Breakfast burritos are so hard to find."
At the time I thought that was a weird statement to make. Breakfast burritos are pretty standard at any dive bar that serves brunch aka all of Richmond. And since that comment, every breakfast burrito on a brunch menu sticks out to me. So that woman should go to Continental Divide.
My only critique is, the burrito is not so great for photo ops as we learned when my friend sliced it open. We both thought this would increase aesthetic value. An abyss of blackness stared back aka black beans.
Us: "Oh. Well, that doesn't look nearly as appetizing."
But it was appetizing. I can especially say this because my friend gave me her leftovers, and I ate the rest of that breakfast burrito cold out of the fridge two days later. And I'd do it again.
If you're interested in brunching at Continental Divide, come by during Richmond Brunch Weekend on May 14-15. A portion of their sales that weekend will go to VCU Massey Cancer Center. Also, ask them about their Massey Mimosa!