Two weekends ago my two friends visited Richmond for the Watermelon Festival. We had to brunch before the festival, so I decided to take them to Star-lite. I had never been to Star-lite for brunch, but I had heard good things - and they weren't lies.
Star-lite is on the corner of Main and Robinson, one of the handful of restaurants on that corner, and generally has open windows onto the sidewalk. On this day, it was already high eighties by 11 am, so the windows were shut. We crowded into the AC'd front part where a hostess asked us how many. We said we had three, and she said it would be fifteen minutes, but then a table opened up and we were about to pounce - until a larger party said they needed three tables, not two.
I considered throwing a mimosa on that group, then reconsidered seeing how we were outnumbered.
The hostess then mentioned we could sit inside, that is, the back of the restaurant, or the bar area. Apparently that is a self-seated area. I would have sat down immediately there if I had known; I am not one to wait for brunch.
Our waitress soon took our drink orders. Personally, I only wanted a water given the heat, but my out-of-town guests insisted we get a mimosa pitcher ("because we save a dollar getting a pitcher versus buying individual glasses"). This is only true if everyone was going to buy a mimosa in the first place, I thought back.
I have to hand it to Star-lite: there is something clean and crisp about their menu. They have plenty of options, but I didn't feel overwhelmed. I saw someone's plate of blueberry pancakes and was immediately sold, but then worried I needed more protein, but then I saw the menu has a "I Can't Make Up My Mind" option, which is two eggs, pancakes, and a meat ($11.25). I was going to hop ship.
But then I saw all of the ships in the harbor: Eggs Benedict variations, breakfast burritos and quesadilla, biscuits and gravy of all types, and a frittata! I leaped at the frittata - three eggs, home fries, onions, red peppers, spinach, tomatoes, and cheddar accompanied by salsa and sour cream ($9.50). My friend, Justin (yes, the by now infamous Justin), got the breakfast quesadilla - three eggs, onions, tomatoes, and cheddar in a sundries tomato tortilla, also with salsa and sour cream ($8.75) - and our other friend, Emily (who you may remember from the night the king robbed us), ordered the biscuit and creamed chip beef. All three of our meals came with a choice of stone ground grits (which has cheese; they need to include this on menu); fried apples; or home fries. Between us, we tried it all.
Back to the mimosa: it's a standard mimosa. A pitcher is $13.50 (a single mimosa is $3.50), and it fills four glasses. This would've been great, but I wasn't in the mood to drink, and it turned out Justin and Emily weren't either. So my question here is, why did we order a mimosa pitcher? #millennials
Our food came fast, however. And holy cow. Just everything. There was not a complaint from me. It was all so, so, so, SO good. How had I never been here before?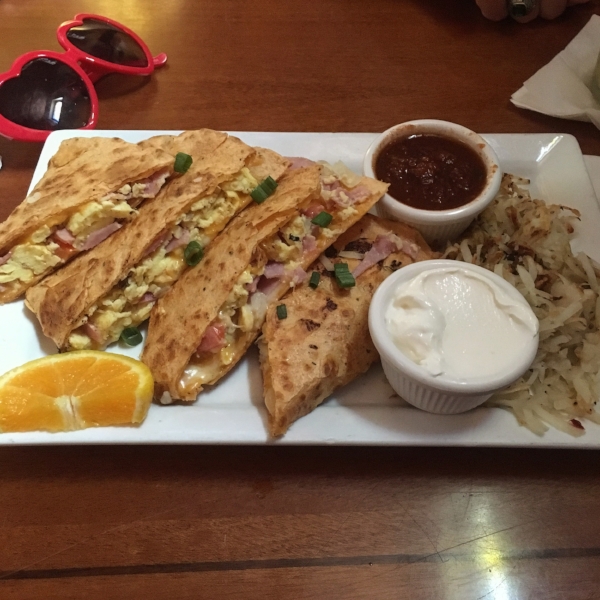 I'll let the photos speak for themselves. And, also, I raved about this place so much that Sara asked if I wanted to go back the next weekend. So, yes, I went to Star-lite brunch twice in six days. This time around I got the breakfast quesadilla with grits, so this sort of tells the quesadilla is a winner here. Justin let me try his the week before, and while my frittata was delicious, you can't beat a breakfast quesadilla. We also didn't get mimosas this time.
Sara was between the biscuits and cream chipped beef and the pastrami hash, but settled on the pastrami hash because Emily got the chipped beef last week and we needed diversity (do it for the blog). This surprised me, as Sara is usually an Eggs Benedict kind of girl, but alas. I tried a bite of the hash and approved. Sara liked her hash as well, especially after dousing the entire dish in Tabasco sauce.
Our friend, Liz - also famous now on this blog and a future star of a blog post called "Living with Liz" - tagged along. I tried to convince her to get the blueberry pancakes, but she revolted and got French toast instead. I got over my disappointment fast.
Once more, every dish was stellar. Here are more photos. Star-lite might be my go-to brunch spot now - though, since we need to sample all of Richmond's brunch scene, I don't know when we'll be back.