I headed up to my hometown a few weeks ago for a nice Christmas break. On Saturday evening, I posed my ever popular question, "Where are we brunching tomorrow?"
My dad, knowing that I basically HAVE to brunch whenever possible, did a bit of research in preparation for this question. According to some poll, you just have to brunch at Athena 2 and order the waffles. So we went to Athena 2 to see if it lives up to the hype.
Disclaimer: I've eaten at Athena 2 many, many times. Growing up, I'd come here regularly with my roommate, plus we'd hit it up post-school dances or for late-night food whenever the mood struck. It's safe to say I knew what Athena would be like, just not for brunch.
Imagine a classic diner, and you're probably in the ballpark of Athena. There's a big pastry counter, a bowl of mints by the door, colorful chairs and booths. Service is quick and useful without being overbearing.
Their menu strikes me as wildly diner-ish, too. It's two full pages of eggs, meats, cheeses and carbs in almost every variation you can imagine. Despite knowing their waffles are "the best," I knew I didn't want waffles. I wanted pastrami as soon as I saw it on the menu. I also really wanted corned beef, so I was on the fence about ordering myself a side dish of corned beef.
When my sandwich came out, I was very thankful I didn't order a side. Imagine a McDonald's breakfast sandwich. Now triple it. That's about the size we're talking. The sandwich took up majority of my plate. My family tried various other combinations of meats, cheese, eggs and carbs, too.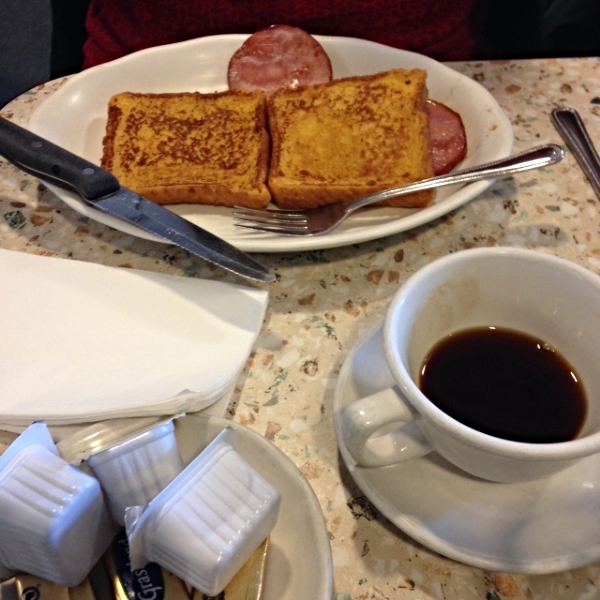 My dad had ordered the Swiss cheese omelet, which was just cheese and egg with perhaps a bit of onion. However, he raved more about the "tasty" hashbrowns.
My sister had the corned beef hash and eggs. She said the hash was delicious, but under-cooked. Her meal also came with bread, which she gave to my mother and me. We got rye bread with loads of butter. As simple as it sounds, it was delicious.
My brother ordered an omelet as well, which he dumped hot sauce on and went to town. His was the western. I laugh when I think about how he has reviewed brunches for us in the past; when he eats it so quickly it must be impossible to taste.
My mom ordered her classic favorite, French toast. With the description including the phrase "Texas Toast," we were expecting it to be a bit thicker, but my mom seemed to enjoy it regardless.
I got the pastrami sandwich, and like I've mentioned, it was enormous. While quality is important -- and this was quality -- the size really stood out to me. It's a simple sandwich, but one that I very much enjoyed.
Would I recommend Athena 2? Yes, if you're looking for stand-up diner food. Would I put it on a "best-of list?" No. Perhaps I'm used to stellar Richmond brunches, but Athena 2 wasn't anything mind-blowing. However, it does hit me with a ton of high school nostalgia, so that surely gets it some bonus points.