I've never really questioned where my fondness for brunch comes from, but I am now certain I know my answer. It's from my grandparents. With a rivaling passion to my own weekend planning, my grandparents were determined to bring my sister and me to one of their favorite brunch spot in Annapolis: Miss Shirley's Cafe.
We walked the block (in a light rain) to Miss Shirley's and were greeted by a bunch of open tables. Apparently it gets rather busy, so we went around 8:00 AM. My first impression was that the host was friendly, the decorations were orange and the place was large.
We got seated immediately and greeted by a lovely waitress and a large menu. There were more options than I can remember ever seeing on any other brunch menu. There were quite a few options I was considering: the Southern Slammer (a breakfast sandwich with avocado, fried green tomatoes and bacon), the chicken and waffles, Amy's Bagel (bagel and lox), the Coconut Cream Stuffed French Toast or the South of the Border Omelet.
I had almost settled on the omelet with grilled chicken, peppers, tomatoes, cheese and avocados until I realized it was $16. Just let that sink in for a second. You can buy a dozen eggs for $2, peppers for $2, an entire chicken for $5, cheese for $3 and an avocado for $.79 at a grocery store. That would feed me five times and would still come out cheaper.
Despite me not even picking up the bill, I couldn't bring myself to order an omelet at that price tag. I eliminated the bagel and lox for similar reasons.
Then I weighed savory vs. sweet and selected the sandwich with the fried green tomatoes. My sister ordered the Breakfast Banana Split and my Nana ordered the Belgian waffles.
We didn't have to wait very long for our food to arrive. I immediately grabbed my phone to snap a quick picture so I could finally dig in.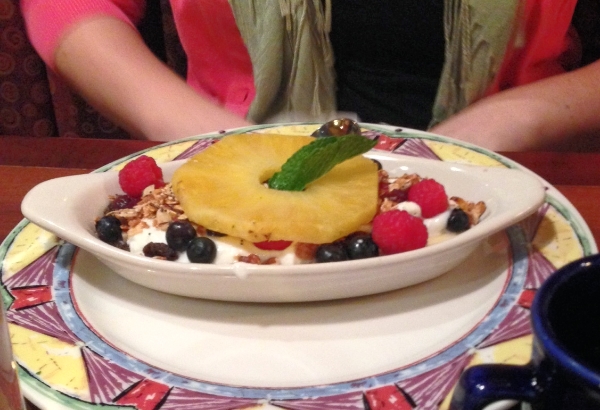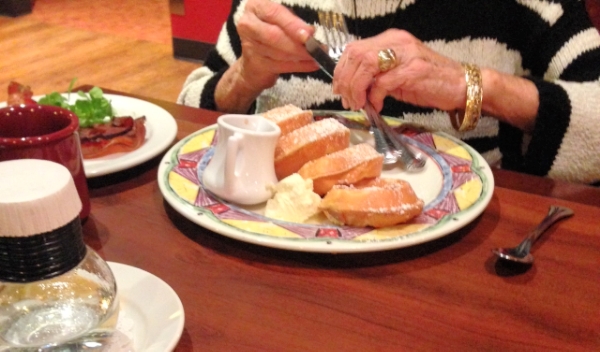 The hash browns were ideal. They were crispy and buttery. They were a bit salty, but ketchup cut it. The sandwich was buttery and delicious.
I love pumpernickel bread, so I was very happy to get a sandwich with it. The eggs were hearty, the bacon was meaty and the fried green tomatoes were perfectly fried. I can't say anything negative about my meal, but it also was rather expensive for what it was. For $12, I got bacon, eggs, bread, cheese and tomatoes. I can't quite justify that spend when most brunches are not that expensive for a breakfast sandwich. However, since my grandparents are wonderful and bankroll meals when I'm in Annapolis, I would very happily go back.