My old roommate and I wanted to try out the new brewery in Scott's Addition, Veil, but first we needed brunch. Originally, we wanted to find a brunch spot halfway in between my house and Veil to minimize our walking efforts. Then Kim reminded me of the biscuit place I wanted to try called Early Bird Biscuit Company, which was two blocks behind my old house, which I moved out of last week. I didn't want to try it this soon after moving and regret not eating it every week when it was so convenient, so we decided to try The Fancy Biscuit instead.
We couldn't walk to The Fancy Biscuit, but at the mention of the other biscuits, I had an insatiable craving for biscuits now. So we hopped in the car and headed over to The Fancy Biscuit. Because I'm a child, I made jokes about the name, you know, because biscuit could be a vagina, and then we could be showing up to a classy strip joint.
Thankfully, the drive wasn't too long so this train of thought died quickly. As we were walking into the restaurant, we took a peek at the board outside with names of the different dishes. Patrons outside of The Fancy Biscuit shared with us which ones they ordered, and the sight of the Big Apple solidified the fact that that's the one I wanted. Then another girl at the table said she got the boozy coffee, and just like that, I knew exactly what I wanted.
When you walk into The Fancy Biscuit, it's immaculately decorated just like Shindigz. Every mason jar light makes you crave some good Southern biscuits even more. We quickly ordered and were handed the Byrd Theater on a stick to represent our order and headed outside to wait for our meal.
I was fawning over how cute everything about this restaurant was already, and turns out, so was Kim. We wanted a picture of us sitting outside The Fancy Biscuit, but couldn't get the selfie angle right. The tall, friendly waiter who came to promptly deliver our coffee realness drinks helped us get the perfect shot. Legit, he got on his knee quickly to get the name behind us just right. Now THAT'S service.
As we were waiting for our biscuits, sipping on boozy coffee and taking in the sun, we were serenaded with the perfect playlist, which we could only assume our perfect waiter friend selected (which we later basically confirmed when he toggled the volume a bit later during the meal). The music selection was a fun mix of old and new, upbeat and slow and mainstream and up-and-coming, complete with everyone from Betty Who to Mariah Carey.
Seriously, without the food even hitting the table, I was obsessed with The Fancy Biscuit. But then the food came out, and I was ready to move in. The chicken was moist, lightly breaded and spiced, covered in slaw and served with large chunks of blue cheese on a stellar biscuit. I was ready to dig in, but picking it up and eating it wasn't going to happen, but I couldn't find a knife. In the perfection that is The Fancy Biscuit, my one critique would be that a knife would have been supremely helpful.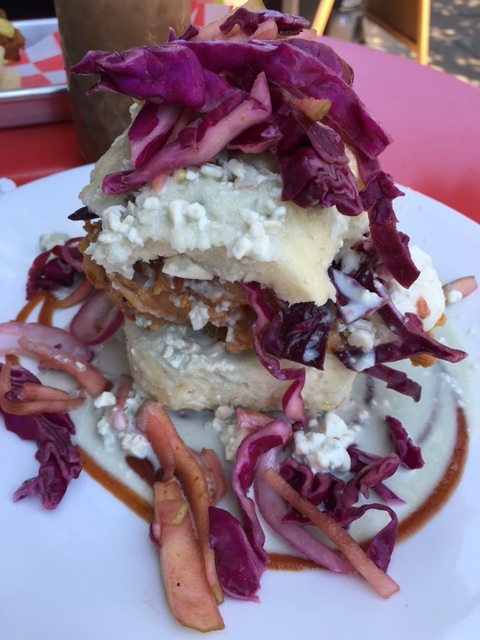 In a world where restaurants thrive on their food alone and know that service can take a backseat, it's refreshing to eat at a place like The Fancy Biscuit where they've thought of the customer at every step of the way: hiring really genuine staff (one basically threw themselves at the door so I wouldn't spill my water), water easily accessible with glasses that actually hold a good amount of water, rapid service, indoor and outdoor seating and food that makes my mouth water just remembering the experience. Plus, the prices are not just reasonable but downright affordable, my boozy coffee was $5 and the biscuit was just under $7.
I'm already making plans to go back, because everything about The Fancy Biscuit is thoughtful and stellar.