Back in September, I said I was going to use every spice in my fancy new spice rack. As of 2016, I had not yet started that project. So I made a resolution to make a recipe once a month with one of the spices.
Up first was celery salt.
While I was good at googling recipes that included celery salt, I had a tough time remembering to buy those supplies once I got to the store. Instead of letting this set-back ruin my goal, I took matters into my own hands. I made my own recipe, cleverly titled "Sara's Soup Recipe" from my research that celery salt is good for dumping into soups.
Sara's Soup Recipe
What you need (or don't because I don't want to be one of those recipe types that forces you into following all the steps exactly. Also, might be hard to follow said steps because I winged it entirely and measured nothing):
Soup Ingredients
Kale and chicken sausages

1 onion
A few handfuls of shredded carrots (chopped up a bit)
Some celery (chopped)
1 box of chicken broth
1 beer mug of water
1/2 box of orzo
A heavy dose of celery salt
Random mix of various spices (because that's just who I am as a person)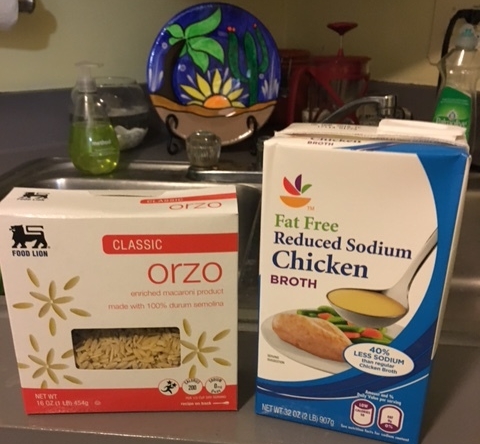 Once you gather your supplies, free the sausages of their casings and cook them in the pot. Once they're cooked, throw in the onions, celery, carrots, chicken broth, water, orzo, heavy dose of celery salt (so all the ingredients) and whatever other spices you feel merit being in the soup. I went with crushed red pepper flakes, onion powder and garlic powder.
Then stir up the soup and let it all mingle together for awhile. Specifically, I have no idea how long it cooked for because I was pre-occupied eating last night's salmon because I was too hungry to wait for the soup to be done.
Once the orzo floated a bit and swelled up to their perky full size, spoon some out and try it. Then package away most of the soup in little to-go containers for work. And freeze some in a bag because that's just too much damn soup for one human.
The Tasting Results
Considering the celery salt was the spice-of-the-month, I'm not even sure what flavor it imparted. The soup smelled weird, which could be a number of factors, ranging from the kale chicken sausage to the celery salt to the chicken broth.
However, the soup was definitely edible. The kale chicken sausage was actually pretty good, and the orzo was cooked (I wasn't sure it would be). The rest of the soup didn't have much going on flavor-wise. It tasted like soup. The flavor profile did get stronger though when I ate it hours later, with a much richer taste. I think letting it all meld together for awhile helped.
Would I recommend Sara's Soup Recipe?
Honestly, maybe. It gets points for being healthy, fast and foolproof, but it needs some more flavor (even after sitting for a few hours). I guess that's to be expected when you're making soup based off of celery and celery salt. I'm thinking when I eat it for the next dozen meals, I'll dump some hot sauce into it. Because hot sauce fixes everything.
Up next for February, we're going to tackle coriander, whatever that is.